When:
January 31, 2018 @ 6:00 pm – 8:30 pm
2018-01-31T18:00:00-08:00
2018-01-31T20:30:00-08:00
Where:
Joy Hair Salon
123 Carrie Cates Ct
North Vancouver, BC V7M 2E4
Canada

Instead of resolutions, set Intentions this year.
You know when you reach the end of your day and you feel like that day just 'happened' to you? Most of us go through our day without consciously thinking as to what we would like to receive from our day. Deliberate intention setting can make all the difference in your day and ultimately in achieving your goals and dreams.
Let's face it, when it comes to resolutions, most of us bend/break them within a few weeks. Intentions are not those "do or die" resolutions or goals; they focus on the big picture. Don't set yourself up for failure by making super specific resolutions, instead, make your intentions part of an overall mindset.
Would you like to learn how to set powerful intentions? And then transfer those intentions to a vision board to remind you thoughout the year? Everything that happens in our world starts with our intention. It's the creative power put forth by you that fulfills your desires in every area of your life, including money, relationship, spirituality and love. We really DO have more control over our destiny than we might think.
Join us as we learn how to set powerful intentions and create our vision for 2018.
Please bring magazines and scissors. All other materials and refreshments are provided..
Registration: $30  *Limited space so register today!
~ TCWA Premium members, log into your account for discount code.
Our Instructor: Linda Casano, Mindshift EFT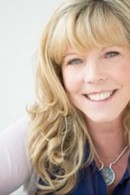 Linda has been in the business of teaching and serving others for most of her adult life.
Evolving professionally from the corporate world, the education system to small businesses owner and full time student of life.
Her most authentic expression of self is as a certified AAMET Advanced Level 3 EFT Practitioner, Matrix Re-Imprinting, Group Facilitator, Energy Medicine enthusiast, Certified Hatha Yoga Teacher and Artist.
Special thanks to Tara Main, Owner of Joy Hair Studio for opeming up her space so that we can set powerful intentions!  www.joyhairstudio.com